A couple of snow chances during the next 5 days...

The 2010 Severe Weather Season
SPC Severe Data

The Storm Prediction Center's Warning Coordination Meteorologist, Greg Carbin, has put together the images above showing the tornado and thunderstorm watches issued per county last year and the departure from normal. Iowa had a fairly-quiet year for tornadoes with a below average number as I discussed here. Severe thunderstorm watches were more prevalent in the southern part of Iowa and in northern Missouri, which saw an above-average number of watches issued. Minnesota absolutely exploded their record number of tornadoes for a year with 145, and the number of watches issued there reflect that data.
Wet 2010 in Iowa
Along with the storms came, obviously, a lot of rain in Iowa. ISU's Daryl Herzmann put the following graphic together yesterday showing that the last 4 years in a row have seen above-average rainfall. It appears the statewide average has increased about 4 inches during the past 50 years.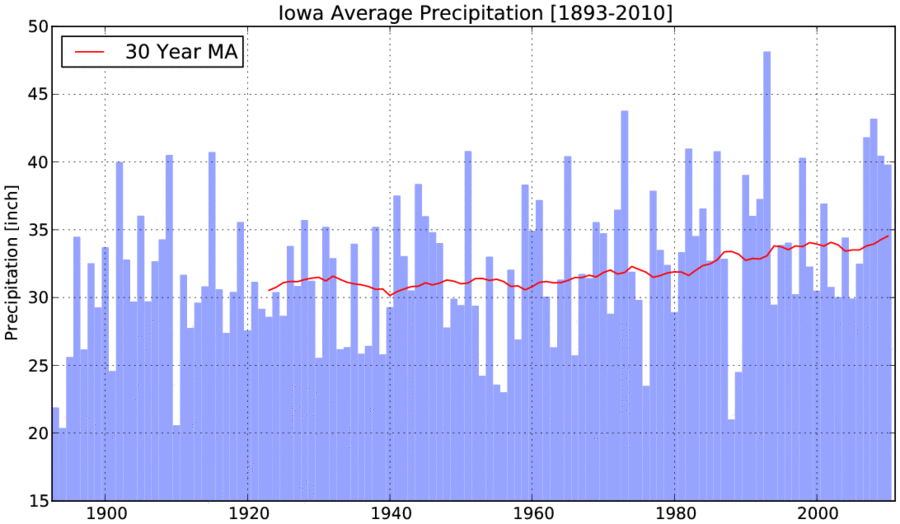 Iowa Average Rainfall - Source: Iowa Environmental Mesonet
A Look Ahead at Snow Chances
Light snow has fallen across central and eastern Iowa today... a similar situation will occur tomorrow with yet another disturbance tracking across the state. Amounts will fall short of an inch on Friday again. There is another chance of snow in the offing for Sunday evening thru Monday evening. However, disagreements are great among the long-term models regarding this system and it's possible it will miss us entirely to the southwest.
7-Day Forecast